The summer of 2020 proved to be the summer of Covid-19 and all of the restrictions imposed upon us, social distancing, face masks, polite queueing to name a few.
However, undeterred, we continued with our plans to tour the South West, particularly Devon and Cornwall. Fortunately campsites were allowed to re-open for business from the beginning of July and we began booking our campsites through the Caravan & Motorhome Club www.caravanclub.co.uk  and The Caravan & Camping Club www.campingandcaravanningclub.co.uk and found that both had adapted incredibly well to open up again and we were only too eager to book our sites.
The drive from Derbyshire is relatively simple, if not a tad boring. A38, M42 and the M5 and the unpredictable A361 but on a good run you can get to Woolacombe in about 5 hrs with a reasonable break.
Woolacombe
The  first site for our adventure was Damage Barton http://www.damagebarton.co.uk in Mortehoe near to Woolacombe, a long standing family favourite area and we set off in mid- August.
Damage Barton is actually affiliated to both the Caravan & Motorhome Club and the Camping & Caravan Club and it did not disappoint.   The views are to die for, and we would certainly recommend pitch P5 for stunning views out towards Lundy Island and we were treated to a couple of amazing sunsets that in itself were worth the visit. However, the good old British weather also threw in the worst with the visit of Storm Ellen and her 60mph winds, very interesting.
Woolacombe offers great surfing, paddle boarding (SUP) and body boarding, a beach that is long enough so that you are not crowded, even on hot sunny days. The South West Coastal Path www.southwestcoastpath.org.uk  passes through the area providing stunning scenery, even if at times the hills can be hard going, it is well worth the exercise.
The town itself is small, there are several surf shops, ice cream parlours, gift shops, eateries and a small convenience store, Londis which somehow, despite its size manages to keep everyone going.
The Captain'sTable https://thecaptainstablewoolacombe.co.uk The Red Barn www.redbarnwoolacombe.co.uk and the Sri Lankan curry at the café on Barricane Beach just around the headland from the town are great places for food and drink.
For the adrenalin junkies, we would highly recommend Active Escape at Watermouth Cove, Ilfracombe for Coasteering www.activeescape.co.uk Tammy was brave enough to undertake this challenge throwing herself of a perfectly good stable rock in to the crystal blue coloured sea 12 metres below her, I had to look after Dougie, our Cockerpoo. 
After 5 wonderful nights, well 4 actually because Storm Ellen gave us a 5th sleepless night it was time to head South along the Atlantic Highway to our next site in Tintagel, Trewethett Farm, www.caravanclub.co.uk/club-sites/england/devon-and-cornwall/cornwall/trewethett-farm-caravan-club-site
On the way we stopped of at Bude, another favourite destination of ours, however thanks to Storm Ellen the beaches had been closed by the RNLI https://rnli.org who certainly had their work cut out in horrendous conditions.
Tintagel
Arriving at our site for the next two nights we opted against setting up our Vango driveaway awning as Ellen was still blowing wild and our first night was another unsettled one. However, the view from our van high above the Atlantic Ocean and the rugged Cornish coastline certainly made up for the wind.
We only had one full day in this area and sadly the weather wasn't the greatest, so we opted to go into Wadebridge and walk along the River Camel towards Padstow. Wadebridge is an extremely popular area for cyclist wanting to cycle along the Camel Trail www.visitcornwall.com/things-to-do/outdoor/north-coast/padstow/camel-trail.There are several cycle hire companies in the town including www.bridgebikehire.co.uk
From Wadebridge you can cycle a gentle and flat 5 miles to Padstow, 6 miles of mostly flat trail to Bodmin or 12 miles to Wenfordshire. You can even hire a dog trailer to pull along with you, so your pooch doesn't miss out.
In the town itself there are several quaint cafes and boutiques and a personal favourite, The Little Gin Shack www.thelittleginshack.co.uk  is well worth a visit and a sneaky sample or two, or three and Neil will amaze you with his wealth of knowledge on all things gin.
Before leaving Tintagel we had to at least make a visit to Tintagel Castle, the legendry home of King Arthur www.english-heritage.org.uk/visit/places/tintagel-castle. Whilst most of the castle is now just ancient ruins, the setting high above the rugged Cornish coast is simply stunning and a must for any visitor to the area. I challenge anyone of you to pull Excalibur from the stone!!!
Sennen Cove
It was then onwards South to our third site of our tour, Sennen Cove  Camping & Caravanning Club Site https://www.campingandcaravanningclub.co.uk/campsites/uk/cornwall/penzance/sennen-cove-camping-and-caravanning-club-site/  just a few miles from Lands End. This was an area that was relatively previously unexplored by us, it was quickly to become a favourite and somewhere we will definitely be coming back to.
Our first full day in which we experienced the best of the Cornish weather was a trip to the beach at Sennen Cove and lunch at the Surf Beach Bar www.surfbeachbar.co.uk – definitely recommend the roast dinner.
From there, we headed a few miles up the coast to Cape Cornwall, this is a National Trust area and is stunning, a great area for the kids to go exploring in the rock pools, tide dependent or just sit and enjoy the dramatic scenery www.nationaltrust.org.uk/features/what-to-see-at-cape-cornwall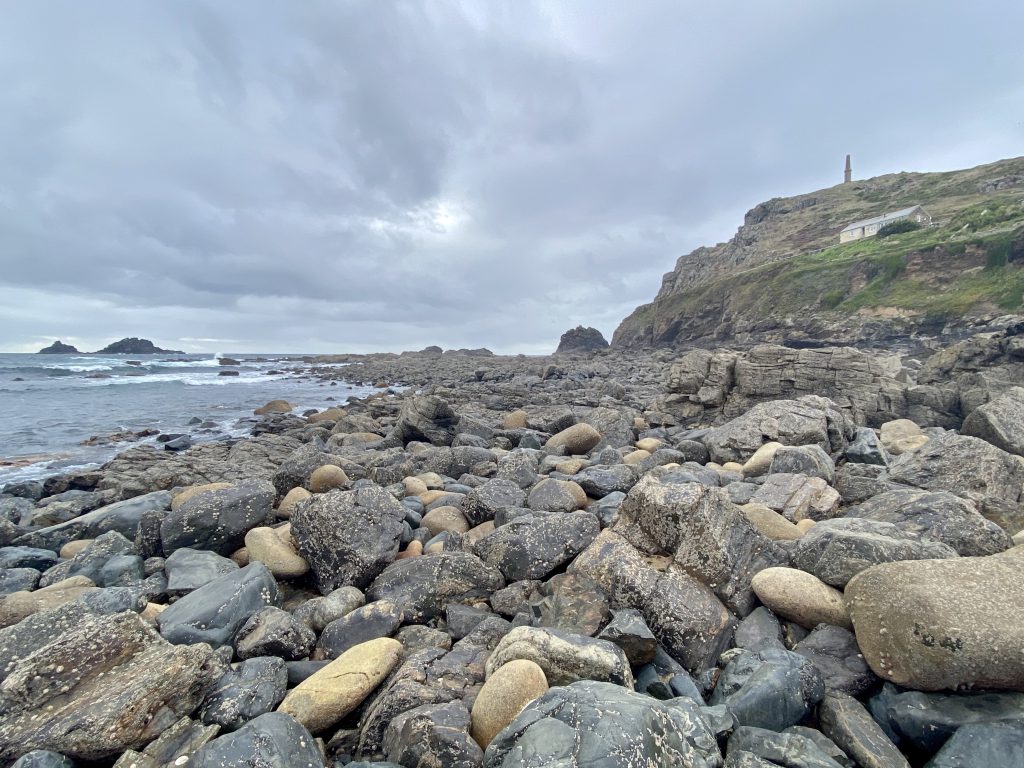 The final destination for the day was another stunning National Trust site, Porthcurno Beach, with its fine soft white sand and turquoise blue sea, this is somewhere where we need to come back to when we have more time www.visitcornwall.com/beaches/lifeguards-seasonal/west-cornwall/lands-end/porthcurno-beach
Typically, our next day started of wet so we headed off to The Lizard, despite driving through plenty of rain to get there, thankfully it had stopped when we reached the most southerly part of the UK. Again, the area is managed by National Trust and is beautiful and whilst having lunch we were treated to watching seals sleep on the rocks and play in the waters. A leisurely walk around the headland and lighthouse was rudely interrupted by the rather large sound of the foghorn blasting out, although for a brief second I had to check it wasn't Bethany.  After having a rather large Cornish pasty – got to be done – we headed to Kynance Cove www.nationaltrust.org.uk/kynance-cove just a few miles away. 
I am not sure how many times I have used the word stunning during this blog but please excuse me for using it once more because that is exactly what Kynance Cove is. The views as you walk along the cliff top path should be experienced by everyone, the walk down to the beach is somewhat steep and difficult and would not suit everyone. That said, Bethany and Tammy were brave enough to make the sands and venture into the sea for a swim. I had to look after the pooch, not that I would have gone in anyway.
It is perhaps worth mentioning that many of Cornwall's beaches have restrictions on taking your dog onto the beaches although the restriction is lifted after 6pm so when planning your day trips, if you have a dog please research first, a suggested website is www.cornwall-beaches.co.uk/dog-friendly
The final destination for the day was St. Michaels Mount in Marazion near Padstow. St. Michaels Mount is home to the St Aubyn family, the iconic rocky island is dominated by the castle and church dating back to the 12th century. Access to the island is primarily by a causeway which joins the island from the mainland, however, be aware, when the tide comes in the causeway disappears. We found it hilarious watching the causeway disappear under the rising tide, slowly at first but then quite quickly.
Due to the current Covid-19 restrictions access to the Island is for those who have booked in advance, but it does not stop you from admiring the splendour from the mainland and the causeway.
That night and following morning was rudely interrupted by yet another fierce storm, this time Francis. Wild winds and driving rain make for an interesting time in a campervan so what did we do, we went and adopted a seal called Ray at the Cornish Seal Sanctuary https://sealsanctuary.sealifetrust.org/en/ in Gweek near Helston. The sanctuary caters for ill and injured seals from around the Cornish coast as well as rehabilitating them where possible.
The sanctuary is also close by to RNAS Culdrose, one of the largest helicopter bases in Europe www.royalnavy.mod.uk/our-organisation/bases-and-stations/air-stations/rnas-culdrose where you can park in the viewing area and watch the Royal Navy's maritime Merlin's hard at work.
We returned back to our site via St. Ives and what a pleasant surprise that was. Parking is somewhat limited in the town itself but there is a large car park on the edge of the town, unfortunately the walk into the town whilst only about 10 minutes, is down a steep hill which means the walk back is…………up a steep hill.
The harbour area is pretty with plenty of eateries, we settled for mussels in white wine sauce at The Sloop Inn www.sloop-inn.co.uk and they were delicious. Out of interest, The Sloop Inn is one of the oldest inn's in Cornwall dating back to 1312AD.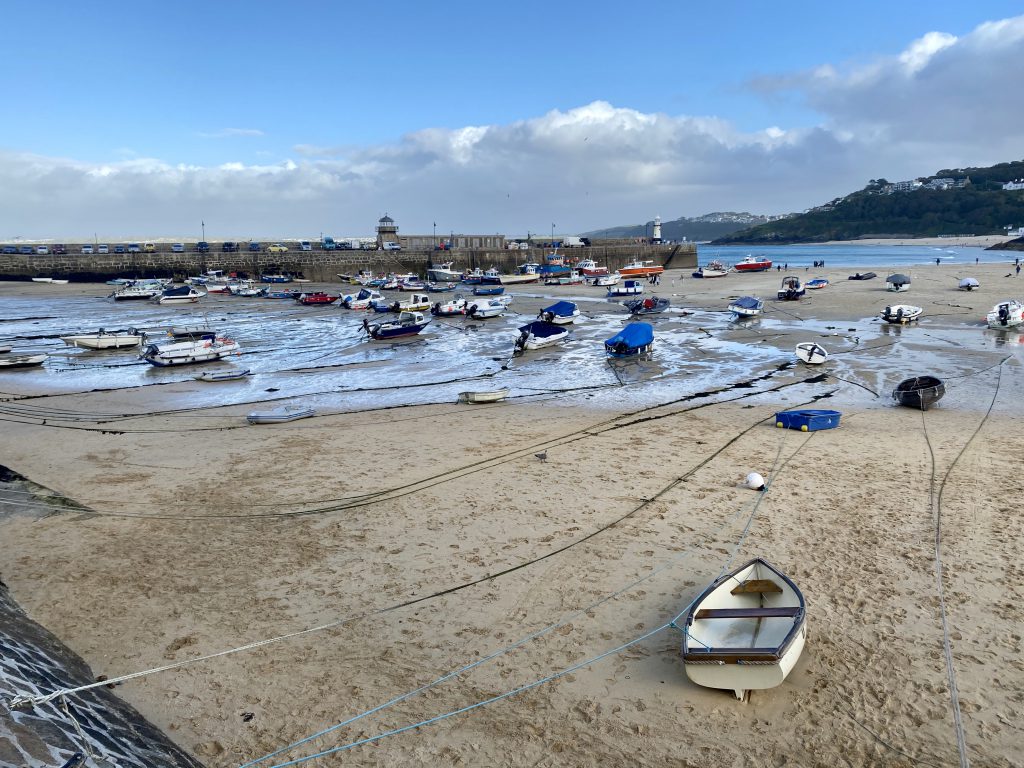 We couldn't resist on our final day a trip to Land's End. Thankfully the weather had improved and was a beautiful sunny day. The stretch of rugged coastline makes for some impressive scenery and there are some attractions to keep the children entertained. Definitely worth spending a couple of hours there https://landsend-landmark.co.uk
Carnon Downs
And so it was time to say goodbye to our temporary home at Sennen Cove and head to our final home, Carnon Downs Caravan Park http://www.carnon-downs-caravanpark.co.uk/home.html and what a find that was. We were so impressed with this site that on our first day we booked to come again next year.
For the first day we ventured into the town of Falmouth, the third largest natural deep-water harbour in the world. We caught a ferry from Falmouth to St Mawes, a 20 minute picturesque journey. St Mawes itself is a beautiful quaint village with some stunning waterside properties, boutiques and cafes as well as plenty to do for kids be it crabbing, swimming and exploring the rock pools www.stmawesandtheroseland.co.uk
The afternoon took us to Loe Beach www.loebeach.co.uk for a session of paddle boarding (SUP). Not a beach in the true sense of the word but an ideal location for paddle boarding, kayaking, dinghies etc with perfect views across the Roseland Peninsula and Carrick Roads. 
Eventually, we arrived at our last full day, the sun shone for us and unfortunately the wind also blew which made our time at Perranporth not quite our perfect finale. However, we braved the wind to spend a couple of hours on the beach, playing with Dougie who still had bounds of energy to burn.
And so, after two weeks of traveling around Devon and Cornwall in Eric, our VW Campervan it was time to head home and plan for our next trip…….to Scotland