At Great Escape Campers we pride ourselves in trying to ensure that our customers receive as much help and advice they may need when they hiring Freddie, our VW Campervan.
That is why we look to utilise not only our own personal experiences but that of family, friends and our customers who have travelled around the UK and further afield.
This article has been written by Lynne and Eric who, in the Autumn of 2020 did one of the most iconic routes in the UK, the NC500 which starts and finishes in Inverness. This year alone, Freddie will do this journey at least 5 times with different customers so we hope that they, and many others will find this article useful.
From our base in Belper, just north of Derby in the East Midlands, the journey to Inverness takes around 7 1/2 hours and is around 430 miles, depending on the route you take. That is the hard bit, that said, once you get beyond Glasgow or Edinburgh the scenery dramatically changes.
The NC500 by Lynne & Eric
The NC500 was always a bit of a dream for us after years of thinking about it, we never actually did it. The sun always pulled our motorhome southward and we regularly we spent months in France, Spain and Portugal. Then COVID struck and Europe was out of the question.
We did our research; Highlands out of the midge season – tick, wild camping allowed – tick, beautiful scenery goes without saying, no tick required.
Note: for those not used to wild camping, Scotland is an excellent place to give it a try as wild camping is legal https://www.visitscotland.com/accommodation/caravan-camping/wild-camping/ . That said our MH has a loo and a shower, wild camping means such luxuries are a real benefit. Obviously, whenever you are wild camping you should always follow all of the guidelines, be considerate of your Scottish hosts, pick up litter, buy something from the local shops, eat at a local cafe and if you are without facilities then definitely take a spade!
The research continued books, maps, internet searches and the joining of NC500 fb groups (which proved to be very helpful) and seriously you can never do enough research.
We left on our journey northward in early September 2020, stopping for a few days of wild camping in Northumberland, a few more days on a campsite in Dundee to empty and fill and then on through the rain and the bleak Cairngorms to Inverness and the NC500.
The first planned stop on our Must Do list was the Black Isle and the dolphins at Chanonry Point https://www.moraydolphins.co.uk/chanonry-point.html it's definitely a do not miss. However, always check the tide times, the dolphins tend to come in shore on an incoming tide. Unfortunately, after two early mornings sitting on the beach with flasks and deck chairs the dolphins were shy and sadly, we missed them. The following morning we saw pics pop up on the NC500 fb groups of dolphins playing close to the beach, amazing yet frustrating for us but a definite excuse to return.
All in all the rolling green hills of the Black Isle were a real delight; we spent two nights wild camping in a lay-by on the Cromarty Firth, delightful in the warm sunny weather. We wandered around Cromarty enjoying the views over the water to the oil rigs, we ate outdoors at a lovely bistro serving all kinds of seafood, the Thai mussels were devine and the pies from the local baker were pretty good too.
A couple of pieces of advice for the Black Isle; parking our 7ft van in Cromarty was a bit of a challenge, arriving early is the key to securing a parking place. Also, after our disappointing dolphin experience, on the spur of the moment, we decided to book a dolphin watching tour from a shop next to the bistro. The next available spot was a week away, so if you fancy doing any dolphin watching book it in advance!
We sadly left the dolphins for another day as the NC500 drew us further northward.
Another wild camping stop took us a little further up the Moray Firth to the car park of the Balintore Inn in the small village of Balintore, we parked over looking the sea and ate heartily at the pub. Perfect!
The next morning, a fellow camper told us that there was a community centre 100yrds up the road that had laundry facilities and never one to miss an opportunity to wash, since they are scarce on a trip like this, we investigated. And yes result, we managed to get a few loads washed. We gave up on the dryer, which had clearly seen better days, and happily resorted to staying another night to give nature time to dry our washing and us the opportunity to wander.
One thing I didn't point out at the beginning was that we had no deadline for our homeward journey and we were determined to experience as much as possible on the road, so whilst we followed the NC500 route we also took our time and pulled off to see other things. Our next stop, the Falls of Shin being a good example, the sun shone on us as we watched salmon make the seemingly impossible leap up the falls.
That evening led us to a car park on the amazing Loch Skelbo, it's not so much that the loch is amazing but the number of seals that frequent the sand banks. There's nothing better than waking up in the morning to a hundred seals rolling around on the sand a few yards from your bedroom window!
On the road north again we did a quick stop at the lovely Dunrobin Castle, (check out the Birds of Prey display if that's your thing) and then it was onto yet another wild camping stop on the harbour side at Helmsdale. We ate lunch like kings at the weirdly decorated La Mirage restaurant, beware we ordered fish and chips, the portions were ginormous – go small!
Onwards and northwards, to be honest this next leg of the journey proved less exciting, other than the opportunity to visit a supermarket at Wick and the amazing wild camping spot we found a few miles south of John O'Groats at the remote Nybster. Yet again, early morning whilst still in bed, we watched a fisherman on a lobster trawler emptying his pots – who needs breakfast telly?
John O'Groats disappointed, whilst the walk along the cliffs to Duncansby Head, the northeastern point of mainland Britain, was bracing, wild and beautiful.
I'd been researching gin distilleries whilst at home and the one I really wanted to visit was Dunnet Bay Distillers, Britain's most northerly distillery. So finally, turning west at John O'Groats we excitedly headed towards Dunnet Bay. Yet again we had failed to realise the need to book a tasting session (especially since tasting sessions had been limited due to COVID), but a couple of hours and a lunch later we were in gin heaven. An hour and a few £££'s lighter we were heading west again looking for our evening accommodation.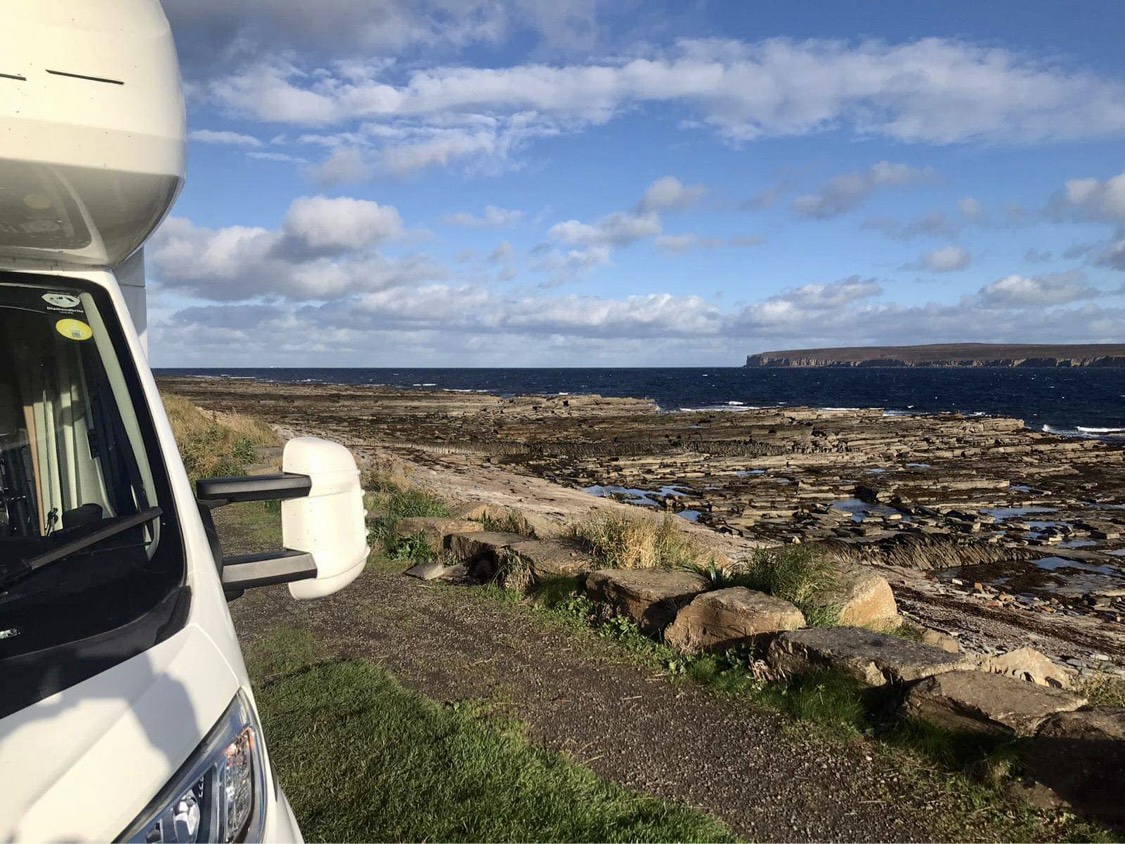 Another beautiful wild camping spot presented itself at Castletown, we park up on a rise with the old flagstone factory behind us and Dunnet Bay in front of us and wandered around yet again
The next morning led us to Thurso and always being wary about the availability of shopping opportunities on the remote north coast we dove into Lidl. It's always a balance on these kinds of trips between stocking up and the size of your fridge!
Having learnt the lesson the previous day I booked a nice seafood restaurant in Scrabster for the evening. Arriving in Scrabster we hunted for a car parking place where we could stay the night. We knew Scrabster was a busy harbour, we also knew it had two good seafood restaurants, what we didn't know was that it was the armpit of the world and not a good place to stay over for the night.
So in a snit and cancelling the restaurant we ploughed on westward, and it has to be said that the scenery on leaving Scrabster was somewhat dull. However, all that was about to change as we drove further along the A838, eventually arriving at Tongue in time for lunch and the beautiful view of the Kyle of Tongue. Now bearing in mind we were a bit testy with each other due to the Scrabster fiasco and eating out at any restaurant was a sore subject, we finally agreed after much to-ing and fro-ing, to eat at a local hostelry. We had the most wonderful lunch sharing three starters between us and then after a few minutes on the road, we stumbled upon amazing wild camping spot on the Kyle of Tongue causeway (see the red arrow). Serendipity and all was well with the world again!
At this point we needed another laundry so the campsite at Durness called us and the roadside scenery really began to deliver the big vistas we'd been looking for
Yet again we we didn't pre book the campsite at Durness, so 11am found us queuing to get onto an already busy site. We stayed for a couple of nights which gave us time to do the laundry and wander around Durness, which didn't disappoint with it's beautiful beach and stunning views towards Cape Wrath, the British mainlands most westerly point.
Turning our van south we left Durness and immediately parked up to watch golden eagles wheeling in the sky – absolute magic.
After a beautiful drive we ended up wild camping at a car park by the wild and truly stunning Oldshoremore Bay. After walking the bay for hours and taking hundreds of photos we were joined in the car park by the locals for tea!
Moving on through increasing stunning scenery we made it to Kylesku Bridge and had our first highland deer sighting, two does and two stags standing bold as brass in someone's back garden!
Another moment of serendipity came when we discovered the car park at Kylesku Bridge we had chosen for the evening was situated above an excellently reviewed restaurant. Well it was lunch time! The restaurant was so good we stayed another night just to eat there again the following evening!
We left Kylesku Bridge feeling fat and full and decided to tackle the Drumbeg coast road to Lochinver. We discovered that this road was definitely not for the feint hearted and whilst we past rugged, wild scenery and beautiful beaches, the difficult driving conditions outweighed the scenery and we wouldn't bother with that route again.
We finally arrived at Gairloch, knowing that bad weather was closing in, we spent a stormy night on a car park overlooking the small coastal village.
The next day found us stocking up at Tesco in a very wet Ullapool. We checked into a lovely campsite on the shores of Loch Broom ready to hunker down as the weather forecast storms on and off for the next week. We really liked Ullapool even though the wet and stormy conditions battered us for days, we stayed in our PJ's for several days as going out was simply madness! We did get some respite from the weather and managed to get a few walks in, one along the edge of Loch Broom to the Rhue Lighthouse and back was particularly memorable, not only for the beautiful scenery but nonexistent footpath had us scrambling along cliff edges. We were exhausted by the return journey, even though we are quite seasoned walkers we opted to walk back via the road!
As an aside, one of our more surprising discoveries was that footpaths don't really exist in the Highlands. Consequently, walking proved a bit problematical not only due to the lack of signposted pathways, but also because the Highlands seem to consist of marshy land almost everywhere. Indeed, the Highlands blankets bogs are huge carbon sinks and vast swathes of recently planted woodland are being returned to bogs to help fight climate change. Who knew?
Back to Ullapool. Telling the time by watching the Caledonian MacBrayne ferry to the Hebrides gently pass within (almost) touching distance of our MH each day became a regular fun treat, as was the Seafood Shack, a funky little outdoor eatery 5 minutes walk away. Always busy, the food we bought back from the rather unassuming Shack was some of the most memorable of our whole trip.
My hubby also, inadvisedly in my humble opinion, took a plunge in the loch watched by our rather bemused MH neighbours!
One reason we held off leaving Ullapool was that we knew the next leg of our journey was going to be a challenging in terms of driving, but the scenery also promised to be some of the best so far. That said we had already seen some of the best scenery we had ever witnessed and saying it would get better was well questionable at best. Indeed, as we had driven on the NC500 each day the amazing vistas only seemed to get better, how could it possibly get anymore beautiful?
So, with that in mind, as the forecast promised us more reliable weather we left the unassuming but beautiful Ullapool behind.
By mid day we realised that the NC500 could indeed deliver on the promise of even more awesome scenery, as we drove into the wild and rugged Beinn Eighe National Nature Reserve, Britain's first National Nature Reserve. With all of the rain we had had over the past days waterfalls streamed down the mountains and thundered over the cliffs. Spectacular.
We overnighted in yet another car park on the shores of Loch Maree and planned a walk through the nature reserve the next day.
The walk didn't quite go as planned, I'm not sure how a leisurely nature ramble turned into an assent of one of the nearby mountains but it did. We eventually turned around (not having reached the top) when I got a terrified look on my face as we reached yet another seemingly sheer scramble upwards and my hubby decided that perhaps good sense should prevail after all. My dignity dented, we slide down the shingle slopes carefully and I downed two paracetamols and a glass of wine at the van to steady my frayed nerves.
Onwards then to the Applecross Peninsular and the Torridons, lauded as the best scenery and scariest roads on the whole of the NC500.
Words will never do justice to the beauty of the Applecross Peninsular, in my humble opinion it is staggeringly, awesomely beautiful. Put simply, breathtaking at every turn. The roads are without doubt dangerous particularly in a large vehicle and you need to have a level of ability and confidence in order to drive a MH safely over them. That said everyone should visit the Applecross Peninsula if ever the opportunity presents itself.
After trailing several highland cattle along the road for what seemed like hours, and navigating narrow, barely there roads we parked for the night just outside the little village of Applecross. The car park overlooked the Isles of Raasay and Skye and it was absolute heaven as the sun slowly set below the clouds.
The next day Applecross, a very pretty, very tiny village set on the glorious Applecross Bay, seemed dwarfed by the beauty of the surrounding area. We wandered around the lanes and the tiny gift shop and hopped back into the van knowing we were about to attempt the much famed Bealach na Bà.
The ascent up to the Bealach na Bà was as always in this beautiful place, wild and scenic.
From near sea-level the Bealach na Bà rises 626m in 9.1km uphill, reaching 20% at its steepest gradient.
So how to describe the white knuckle drive down….. I'm not sure I could ever do it justice and yes it was terrifying. My husbands nerves of steel, slow driving, judicious use of the breaks and the passing places made it slightly less terrifying, but not by much!
How anyone can think about pulling their van over on the Bealach na Bà to picnic in these essential passing places is beyond me, but apparently they do regularly!
With hearts beating loudly we drove on somewhat speechless, not only at awesome majesty of the scenery but also the sheer madness of the Bealach na Bà. We stopped in the calming sunshine for crab and salmon sandwiches at a pretty little cafe near Loch Kishorn and made the final decision to turn off the NC500 and explore the Isle of Skye for a few days.
Dreadful weather drove us from Skye after a few days and on leaving the Isle we seriously contemplated turning the van northward again, driving the NC500 in reverse. However, storms were driving hard into the Highland's west coast and in the end we headed the van east and back towards Inverness to finally complete the NC500.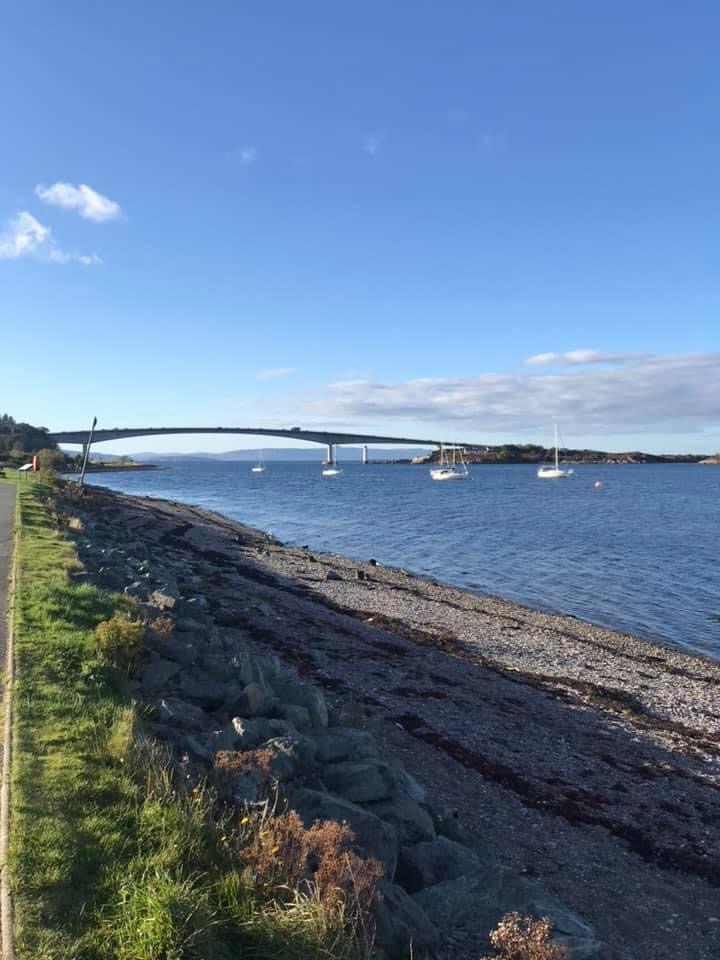 In total our Scottish odyssey took us away from home for 34 nights, we had the most amazing experiences, diverse weather conditions and above all we saw the most amazing scenery, which truly is some of the best the world has to offer.
If you get the time and opportunity give the NC500 the chance to leave you in awe too!
TOP TIPS:
Research, research, research, but above all make the trip your own, follow your own plan
Avoid midge season
Take your time, be flexible and get off the beaten track
Book activities in advance if you can
Spend money locally
On narrow roads always pull over into passing places to allow local drivers to overtake
There are plenty of petrol stations around, but never go below half a tank just in case.
RESOURCES:
The route:
– NC500: https://www.northcoast500.com/
Download the NC500 app – look for North Coast 500
We found the book Rough Guide to the North Coast 500 really useful
Join fb groups, my hubby found the NC500 group the most useful.
Look for potential wild camping spots here:
Download the park4night and searchforsites app
And the wildcamping app from https://wildcamping.co.uk
Camping spots at pubs, cafes & farms etc:
– http://wildcamping.moonfruit.com/pub-stopovers/4563550207
Places to Stay
The places listed below are aimed at giving you a starting point in the planning of your trip As we said in our Top Tips – Research is everything. The places listed are on a anti -clockwise route starting at Inverness and is a mixture of campsites and wild camping.
http://www.ardtower-caravanpark.com
Wild camping – Tarbat Ness lighthouse car park (north of Portmahomack)
https://www.inver-caravan-park.co.uk
Wild camping – Dornoch beach (see below), Helmsdale Harbour looks lovely, Balintore Harbour Car Park, the Mound @Dornoch (looks nice), Latheronwheel Harbour (looks beautiful), Lybster Harbour
Look on https://www.searchforsites.co.uk/lists.php?listID=63
Wild camping – Keiss
Check on https://www.searchforsites.co.uk/lists.php?listID=63
Wild camping – Sandy Bay, John O'Groats
Stroma View caravan & Camping Site, Huna – small site 8 vans (reopens September 2020) http://www.stromaview.co.uk
Hard standing at Dunnet Head lighthouse (park4night)
North Coast Touring Park, Melvich
thehalladaleinn.co.uk/northcoasttouringpark/
Wild camping – Strathy Point Lighthouse, Kyle of Tongue, Rispond, https://www.searchforsites.co.uk/lists.php?listID=63
Scourie Caravan & Camping, www.scouriecampsitesutherland.com/
Kinlochbervie Loch Clash Community Stopover, Kinlochbervie IV27 4RR
Lots of places to wild camp on the A838 Durness to Scourie park4night
Wild camping – Ceannabeinne beach & Loch Laxford, Oldshoremore – 'magic spot' Rough Guide pg62
Clachtoll Beach Campsite, On B869! (No chemical dump?), IV27 4JD, www.clachtollbeachcampsite.com/?
Broomfield Holiday Park, West Lane, Ullapool, IV26 2UT, www.broomfieldhp.com/
Port a Bhaigh campsite, Altandhu IV26 2YR, www.portabhaigh.co.uk/
Wild camping – Kylesku, Drumbeg, Clashnessie, lots of other places on Searchforsites, Wild Camping & Park4night
Wild camping – Mellon Udrigle Beach (turn north at Laide) Gruinard Bay, Aultbea Pier, Loch Thurnaig
Gruinard Bay Caravan Park, Laide IV22 2ND, www.gruinardbay.co.uk/
The Sands Caravan & Camping, Gairloch IV21 2DL, laundry, dogs allowed, pitches in the dunes, www.sandscaravanandcamping.co.uk/
Applecross Campsite, Strathcarron, IV54 8ND, always busy so book ahead https://visitapplecross.com/accommodation/camping/
Best spots for wild camping, according to https://highlands2hammocks.co.uk/wild-camping-spots-around-the-nc500/
Great Escape Campers would like to thank Lynne and Eric for providing us with a fantastic article on travelling the NC500. More information on this itinerary can be obtained by contacting info@greatescapecampers.co.uk.
You can also share your experiences and recommendations by "commenting" below. We really hope you find this article helpful.
Thanks for reading