Welcome to Great Escape Campers
A family run VW Campervan hire company based in Derbyshire on the edge of the Peak District National Park
IT'S TIME FOR A NEW ADVENTURE
Campervan hire
Freddie is a 2019 professionally converted Volkswagen campervan in Deep Black, with a Sports Front, 20" alloys and side bars he is a real head turner. Extremely economical so whether it be sunning yourself by the beach, hitting the hills and mountains or just discovering new places you certainly won't be disappointed when you hire our campervan.
What's included
Comprehensive Insurance
Full comprehensive insurance cover is included for 2 drivers when you hire our camper, its always good to share.
Breakdown & Recovery
Just on the off chance you have problems while your away, full break down cover is also included in the cost of your hire.
Fully Equipped
All kitchen utensils, cutlery, t-towels and cleaning equipment supplied. All you need is bedding, clothing and a sense of adventure.
We are now offering a Stand Up Paddleboard for hire with the van, please contact us to find out more.
---
See our latest customer reviews …
We're really lucky to have some amazing customers who have left us some great reviews. We pride ourselves on providing an amazing service and hopefully these reviews show our dedication.
---
"Took the camper up to Edinburgh for a long weekend and it was honestly a great experience. The Van is professional has everything you need for whatever the conditions! The heater is excellent for when the nights are quite cold. It comes equip with everything high tech and is definitely the top of its range. Will definitely be hiring again at some point.
Thank you Darren and Tammy, lovely people :)"
"Despite booking their VW camper at very short notice, Darren made every effort to ensure the can was ready and available on time. The van itself is excellent and I really enjoyed using it for a week. Darren made sure I was fully familiarised with the van before driving it away. Would thoroughly recommend Great Escape Campers."
"We took Freddie on a trip to Ingleton in the Yorkshire Dales and had a fantastic weekend away.
Despite the temperature dropping to zero we stayed warm cozy and comfortable, the heater took a matter of minutes to make it snug.
Freddie is kitted out with everything you need, plenty of cooking equipment if you enjoy chilling making a tasty meal, with a bottle of wine of course!
The booking was a smooth process and Darren was really helpful throughout.
Thanks Darren and Tammy for a great weekend away, I would recommend Freddie to anyone who fancies a taste of van life!"
"Having spent many years camping in our tent but now wanting to enjoy the great outdoors with a three year old, we decided to treat ourselves to a bit of luxury and hire Freddie for our Easter getaway and head up to the beautiful North Yorkshire coast that is Filey.
We headed off feeling really well prepared thanks to the comprehensive guides that Darren and Tammy emailed to us beforehand, the pre departure briefing and a well equipped Freddie that made sure we only needed to take the basics of food and clothing with us.
I did think that I might be cold at night however thanks to the diesel heater we were more than cosy, so much so that after the second night, even with the wind whipping around the pop top, the heater wasn't needed.
Freddie was easy to use, a lovely drive, the awning was easy to set up, and I was impressed at how little fuel we used.
The only issue now is that now we've been spoilt, I never want to sleep in a tent again!
All in all a fantastic and much needed break thanks to Darren, Tammy and Freddie."
"Used Great Escape Campers for a week away in Devon. The van was spotless, very well equipped and the handover gave us everything we need to know for a week "on the road".
The service we received from GEC was warm, friendly and second to none, the experience was faultless and we would recommend to anyone looking for a hassle free holiday. Thank you guys."
"Recently spent a week with Freddie travelling round Devon and Cornwall. What an amazing van which turned heads wherever we camped.
The van packs everything you need just bring your sleeping bag. Would recommend for first timers or experienced campers.
Great service, thank you Darren & Tammy."
Jon Hodgins
We really enjoyed our week away in Freddie. When we picked the campervan up it was immaculate and we were given a really clear and comprehensive handover. Everything worked really well while we were away. Thanks Darren & Tammy – look forward to booking Freddie again in the future.
"Hired Freddie recently from Darren and Tammie, 5 star service. Campervan was very high standard, Darren and Tammie explained everything we needed to know in detailed pick up.
Extras to hire include: cadac, drive away awning, paddle board new for 2022…
Give Great Escape Campers a go, you won't regret it…."
"Even though it rained non stop in really wet Wales we enjoyed our trip in the camper van. We had adventures and saw places . We went up Snowdon and rode a zip wire! Our break was soggy but memorable! Darren was very kind and approachable and helped us with the manoeuvres. He showed us how to set up and gave lots of practical advise and suggestions.The camper van was spotless and well organised with necessary equipment. In the sunshine it would be amazing! Perhaps another adventure needs planning in Summer?!"
"Thanks so much for a stress-free set up of Freddie, catering to our needs and quick communication. Would fully recommend and we'll certainly be back for another adventure 😊"
"Took the camper up to Edinburgh for a long weekend and it was honestly a great experience. The Van is professional has everything you need for whatever the conditions! The heater is excellent for when the nights are quite cold. It comes equip with everything high tech and is definitely the top of its range. Will definitely be hiring again at some point.
Thank you Darren and Tammy, lovely people :)"
"First class service and van and we would recommend this company to anyone.
We hired "Freddie" from Great Escape Campers for one week. We were novices to the camper van life. The service and help we received from Darren and Tammy at GEC was first class. We had an amazing week in Northumberland and quickly settled into the camper van lifestyle. We had two adults and two children on our trip and we all managed to fit in with the help of their driveaway awning. With being novices to this we took too much clothing and other stuff with us and it took a day or two to get organised with the van but once we got organised it was brilliant. We will definitely do this again."
"Had a great week away in Freddie the camper van. Collection went well with Darren explaining how to use the van , and ensure we were comfortable with the instructions. We did approx 750 miles easily and thoroughly enjoyed our road trip. The van is very well equipped and you do really only need your own bedding! I would highly recommend using Great Escape campers, for a friendly and professional service"
"Excellent campervan. Had everything we needed. Easy to set up and use. Great value and top notch customer service from Darren. Highly recommended."
"We LOVE Great Escapes Campers! Brilliant camper van layout – has everything you need to go "off grid" including the solar power recharge of the leisure battery. We wild camped out of Freddie for a week in Scotland and he did everything we needed and more. He had enough storage to have all our clothes and kit for the week, including two touring paddle boards, to mean we didn't need the awning and could sleep in the main body of the van, rather than the pop-up top. Darren and Tammy were amazing – really friendly and accommodating. We'd thoroughly recommend and are booking again for a longer stay in Freddie now we're back."
"We had a superb trip to Pembrokeshire in Great Escape's VW transporter. The van was spot on, so well kitted out and equipped, really easy to switch to sleeping mode, super clean and reliable. No complaints whatsoever! A great way to have an adventure, explore and live van life! Highly recommend!"
"We had a great experience using Great escape campers. Booking was easy, Darren & Tammy were very helpful and informative as this was our first time away in a camper. The van itself is outstanding and was well equipped for our needs. We loved it, the kids loved it. I would highly recommend and would definitely hire the van again!"
"Had a great few days in the van from Great Escape Campers. Excellent communication from making initial enquiries to the day we returned from our break. It was the first time hiring and using a van and was a little nervous about the set up but had a great demonstration on collection and then was easy to set to set up once on site. This trip was a trial before going on a 2 week break later on in the year which we can't wait for now. Would highly recommend Great Escape Campers and can't wait for later on in the year for our next adventure"
"Just returned from 3 nights away in Freddie and had an absolute blast. It is equipped with everything that you need and is a joy to drive. Darren and Tammy were fantastic to deal with right from our very first enquiry through to the collection and return. Excellent communication and useful advice with clear instructions on how everything works. I would not hesitate to recommend them and will certainly be fixing up another trip in the near future."
Brilliant in every way! Informative " hand over drill " everything we needed to know for first timers .. will be booking again ! And an added bonus with flexibility in pick up and drop off times . Thankyou
Anji
"
What a pleasure to hire Freddie and take the opportunity to visit friends afar! It felt a privilege to take him out on one of his first trips! Great fun and good experience to test out holidaying in the VW.
Lots of information is provided by Darren & Tammy about using the van and I'd recommend trying out how to use the van during the handover.
"
"We loved Freddie, and had a great first time campervanning. Will do it again. Great van, great people."
"Never having stepped into a camper van before, we decided to give it a go with Freddie. Not wanting to do anything by halves, we hired him for 2 1/2 weeks. We'd either love it or hate it, sink or swim. We ended up having a few nights on the North Wales coast; making our way to the Mull Of Kintyre; then to the Outer Hebrides, via the Isle Of Skye; returning via Inverness, Perth and finally a weekend in St. Ives, Cambridgeshire. A total of 1828 fantastic miles. It was great, we swam. It's a comfortable drive & sleep with enough room for 2 adults and a dog to live in. On the very occasional hiccup – entirely customer related – Darren was at the end of the phone to point us in the right direction. The best recommendation I can give, is that I'd do it again and I'd definitely take Freddie along for the ride too. 10/10!"
"Our first camper van experience and we were not disappointed.
Week long road trip down the Welsh coast. Fantastically equipped camper with everything you could ask for.
Pleasure to drive and great view with the extra height.
Thanks Darren and Tammy for a great week and many memory's."
"Last year we had a brilliant time in Freddie the T6 VW camper van that we hired from Great Escapes Camper Van hire based in Belper. The van has everything you need with options of hiring a drive away awning and the gas BBQ which makes for great outdoor cooking and the awning giving you that extra space. Darren and Tammy were on hand and gave full instructions on the van which was for anybody like us that are new to the camper van scene was very helpful. We would certainly recommend hiring from Great Escape so much so that we have booked again to take Freddie on anew adventure with us later this year.
."
"WOW! What an absolutely fabulous holiday! We initially hired Freddie for my hubby to convince me we should buy a VW. How pleased am I that we did.
Tammy & Darren are fantastic, very knowledgeable on all things camping and campervan. Freddie is very well kitted out, everything has been thought of. You literally just need yourselves, bedding and a place to pitch!
We didn't venture far, only Staffordshire, but we had all we needed for a very comfortable and luxurious 3 night stay. We also have a 4 & 1 year old, my main concern was that they wouldn't settle. There was no need to worry at all they were so excited and enjoyed every bit of the campervan they were shattered by bedtime and fell asleep no bother.
We hired the drive away awning which is just brilliant. You do get some odd looks from people who don't understand that you literally can just drive away from your awning and go off on an adventure for the day.
If you are thinking about hiring a VW, stop thinking and book Freddie. I promise you wont be disappointed! I just hope we can fit in another break with Freddie before we buy our own.
Thank you so much Tammy & Darren. Not forgetting their son Josh who showed us round Freddie and explained how everything worked. Josh was also very knowledgable and told us everything we needed to know. A lovely family who clearly have a passion for what they do.
Aimee, Craig, Isaac & Freddie"
"We had a lovely holiday in wales. The campervan was fabulous and totally kitted our with everything you could possibly need.
Thanks Tammy and Daz"
"Had a great family weekend away in Freddie from Great Escape Campers. Well equipped camper with a friendly service. Will definitely be hiring again!"
"We took Freddie off to Devon and Cornwall for two and a bit weeks and had a fantastic time.
Freddie has everything you need including a drive away awning and gas barbecue, all we needed to pack were our sleeping bags and clothes! The handover covered everything we needed to know, Tammy and Darren are really easy to deal with and have clearly put a great deal of thought into their business.
We really didn't want to hand him back when he got home and will be hiring again (unless we buy our own!)
Highly recommended"
---
Read about our campervan travels
---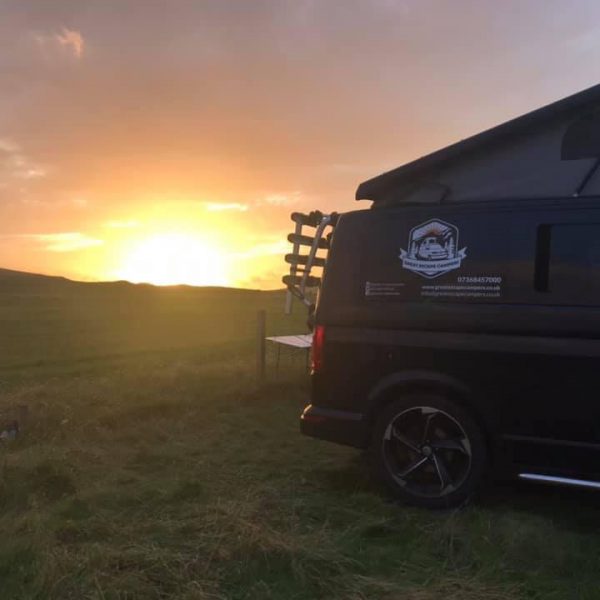 Have you ever fancied taking your self off to the wilderness where you are only disturbed…